We at AdVoice are thrilled to announce that we have not one, not two, but three clients featuring in Netflix's Arthurian epic Cursed out this Friday.
That's right, Andrew Whipp, Samuel Oatley and Claire Holman will be putting their stage combat training to good use in this high action, fantasy adventure and we can't wait.
Expect swords, magic and some serious girl power as the legend of Merlin gets a good old feminist twist!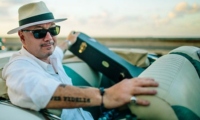 Huey Morgan's Latin Music Adventure (BBC Four)
We have an extra spicy AdVoice highlight for you thanks to our resident fun lovin' criminal Huey Morgan!
Join Huey as he travels across Brazil, Cuba and Puerto Rico on his epic Latin Music Adventure airing on BBC Four and BBC iPlayer every Friday. Expect salsa, rumba and plenty of flavour, accompanied by Huey's quintessential New York charm.